ELEMENTAL.SUITE
Information @ your Finger Tips | Metal Analysis made Easy | Unique Communication Talent
Controlling your spectrometer can be so simple
> 350000 international alloys
Total Materia
ELEMENTAL.SUITE optionally integrates the world's most comprehensive materials database: Total Materia. The off-line (standalone) version of Total Materia with its patented SmartComp search algorithm is available at very attractive conditions.
1 Click
LIMS like data mining capabilities with advanced options 1 mouse click away
The new Analysis Viewer makes data mining a snap. Query the database and customize views with powerful grouping and filtering options easily. Generating reports, display of history charts or queries to Total Materia are only 1 mouse click away.
Guided workflows
Everybody can operate ELEMENTAL.SUITE
Designed for maximum usability, ELEMENTAL.SUITE introduces workflows that guide users through complex tasks like standardization, type standardization, etc. without restricting their possibilities in routine operation.
ELEMENTAL.SUITE is based on Bruker's powerful ALASKA framework for future-proof instrument control. All Bruker OES systems are operated by ELEMENTAL.SUITE, covering the entire range of applications. Its plug-in based architecture provides maximum flexibility for your analytical requirements now and in the future.
Features include:
Touchscreen or desktop operation with variable font size
Multi-language capabilities
Easy to use screens with customizable skins and layouts
Routine operation with automatic method finding (AMF)
Positive material identification (PMI) or sorting with pass/fail mode
Professional Reporting System for customized analysis reports
Integrated, powerful Analysis Viewer with data mining and reporting functionalities
Advanced Feature like: Regression Plug-in, Single Spark viewer, QC relevant history chart for control samples and standardization
Data Interface: Easy configurable universal export to remote SQL-databases, CSV, txt, LIMS
Grade Libraries: Full integration of Total Materia (optional) with export to internal grade library to cutomize your own alloy grades.
The MCI (Metal Cleanliness Inspection) option, enables investigations on steel cleanliness, oxygen level, inclusions size, distribution and composition. In combination with the standard bulk analysis, the MCI option is a fast way of getting this information within seconds.
BENEFITS
Intelligent Optical Emission Spectrometer Software
ELEMENTAL.SUITE helps you to complete your task more easy, faster, with higher efficiency in both cost and labor.
ELEMENTAL.SUITE monitors and records all your instrument operating conditions in real time: vacuum level, voltages, fan speeds, temperatures can be checked at any time and recorded for trend monitoring, remote diagnostic and planned maintenance scheduling, minimizing down-time and argon consumption


Specification - Ultimate Power, so simple to operate
Calibration & Quality Monitoring
Extend factory calibration with your own standards using the method editor and its powerful regression plug-in
Manage methods safely using the integrated version control system
Various statistical data algorithms and soluble/insoluble calculations
Comprehensive CRM sample library included
Validity monitoring of check-, type-standardization and standardization samples
Configurable precision monitoring
History of control sample and standardization with SPC-chart
Integrated Audit Trail log for changes including environmental conditions
Internal grade library to setup your own grades with internal & external limits, convinient import wizzard and cross referencing with local standards
Usability & Customization
Intuitive, easy to use screens with variable font sizes and touchscreen support
Lookup lists and plausibility check for sample identification
Easy to use function to set up check- and type-standardization samples
Flexible formula editor for user defined expressions (e.g. carbon equivalent: CEQ, temperature liquidus: Tliq)
Multi Language support: EN, DE, FR, RU, CN, ES, CZ, PL and TR (further translations available on request).
Reporting & Data Interfaces
Professional reporting system for customized analysis reports with flexible printing and preview capabilities
ELEMENTAL.SUITE Results Publishing System let you define easily: what , when, how and where to results are exportet
Connections to various laboratory information systems (LIMS) are supported
An universal SQL-export allows exporting results directly into various SQL-database engines running networked or locally
Bruker's common automation interface, AXSCOM™ is part of ELEMENTAL.SUITE and enables easy integration into automated industrial processes (currently supported only with Q8 MAGELLAN)
Operational Modes
Routine with automatic method finding (AMF)
Positive Material Identification (PMI)
Sorting, pass and fail mode
Configureable gas saving
Check sample workflow
Standardization and Type Standardization workflows
Configurable gas saver and power management
Data & Security
Secure SQL-database engine storing all data (incl. single measurements)
Easy to use backup and restore tool
Integrated Web Data Service allows web clients query analysis data via standard OData protocol
Powerful and easy-to-use DB client: Analysis Viewer integrated in ELEMENTAL.SUITE
Comprehensive user management ensures maximum security
Access rights can be easily assigned or revoked to users or user groups
Optional Modules
Integration of Total Materia into ELEMENTAL.SUITE allows 1 click queries from the Analysis Viewer or automated for every result against the world's most comprehensive matrials database.
Bruker's affordable OEM-license of Total Materia runs standalone without network connection, includes 200 exports into ELEMENTAL.SUITE's integrated library and access to free updates
Inclusion analysis & metal cleanliness inspection with the ELEMENTAL.SUITE's MCI package for the Q8 MAGELLAN
Charge Calculation module
Advanced application examples
IRON & STEEL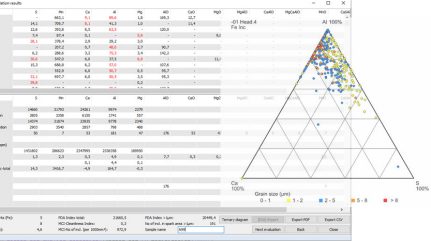 Inclusion Analysis / Steel Cleanliness Determination
Different inclusions in steel with different chemistry and stoichiometry can be formed during the steel making process. Depending on their size, distribution and abundance they can seriously degrade mechanical properties. In combination with a spectrometer with single spark evaluation capabilities, OES can determine these properties plus an accurate total oxygen value providing a fast and cost effective addition to normal bulk analysis.
METALS (GENERAL)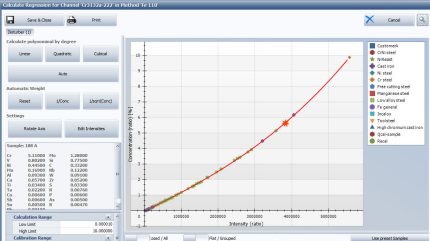 Calibration
The user-friendly regression plug-in makes calibration easy and provides all important features for experts. Structured menu and comprehensive functions make the calibration process easier than ever before. Calibration curve sectioning, calculation of additive and multiplicative corrections, selection and de-selection of alloy groups support tailoring your calibration to your needs.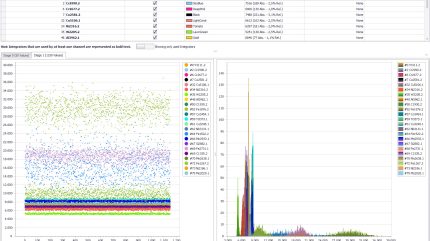 Single Spark Evaluation
The single-spark viewer plug-in allows investigations of single spark distributions for every channel during analysis with single spark capable instruments. Information on the raw signals and statistical interpretation gives additional information on your sample. Inhomogeneous samples can be studied in detail. Single spark data also provide valuable information on insoluble element fractions.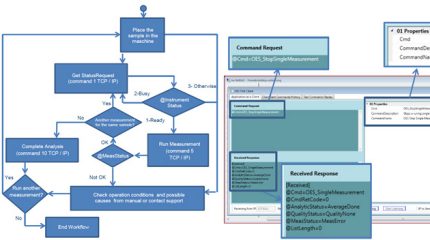 Automation Ready
The AXSCOM™ automation interface has been extended for OES-specific commands, workflows and responses. It is part of ELEMENTAL.SUITE and enables easy integration of the Q8 MAGELLAN into automated industrial processes.
Inquiry - ELEMENTAL.SUITE Software